| | | |
| --- | --- | --- |
| DATE | | 2.26.17 |
| BREED | | Boxer mix |
| SEX | | Female |
| AGE | | Young |
| SIZE | | Medium |
| ENERGY | | High |
| | | |
| | | | | | |
| --- | --- | --- | --- | --- | --- |
| Quick View | Y | N | ? | S | L |
| Housebroken | | | | | |
| Good with kids -5 | | | | | |
| Good with dogs | | | | | |
| Good with cats | | | | | |
| Knows commands | | | | | |

Y = Yes
N = No
? = Don't Know
S = Somewhat
L = Likely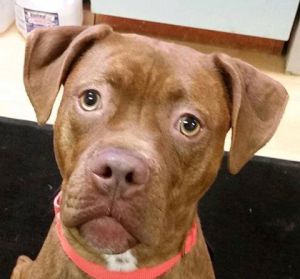 If you have a question or would like to meet Chloer please call Sandy at 724-909-0459, or email sandraschiller3008@gmail.com
It was almost curtains for me. Another shelter deemed me unadoptable because I was very mouthy, jumping and snatching peoples' sleeves. Being such a young dog – still a puppy really – I could not get the resources I needed to temper my inner wild-child. But some people saw the warm, loving dog inside and whisked me away to give me a chance and I have improved dramatically. I'm growing up and learning a lot from all the volunteers. I am often the only dog that sits patiently at the front of my kennel waiting for my turn to go for a walk. I like many of the other dogs and have a bottomless capacity for play at this time in my life.
Not everyone is up for walking a lot, training, and playing with a young dog, but if my needs are met, I will be an super companion for that kind of person or family.

With my piercing golden eyes, boxy snout and rich, mocha coat, I am a beautiful specimen. Not too big or too small, I'm about 40 lbs and that's all muscle. I have exhibited my athleticism by climbing out of my 6-foot-high enclosure, but have learned that's a no-no and now have a lid on my kennel so I don't try it again. The bottom line is that a normal fenced yard would be a piece of cake for me to escape, but I wouldn't want to leave if someone was with me. I want to be with people – not out on my own and certainly not stuck in a kennel all day.

One of the funniest things about me is how I play with a giant plastic ball. I'm relentless with this – my favorite toy, and you can take it with me if you adopt me. It will make you laugh out loud.
Please visit and look into my hypnotic eyes for a little while and I guarantee, you won't want to look away.

Descriptions are from information that owners write on "surrender" forms, and details provided by staff members and volunteers during interaction with the animals. These are general guidelines to help steer potential adopters to the most appropriate companion animal for their lives and lifestyle.