| | | |
| --- | --- | --- |
| DATE | | 7.9.17 |
| BREED | | Terrier mix |
| SEX | | Female |
| AGE | | Approx. 18 months |
| SIZE | | Small |
| ENERGY | | High |
| | | |
| | | | | | |
| --- | --- | --- | --- | --- | --- |
| Quick View | Y | N | ? | S | L |
| Housebroken | | | | | |
| Good with kids -5 | | | | | |
| Good with dogs | | | | | |
| Good with cats | | | | | |
| Knows commands | | | | | |

Y = Yes
N = No
? = Don't Know
S = Somewhat
L = Likely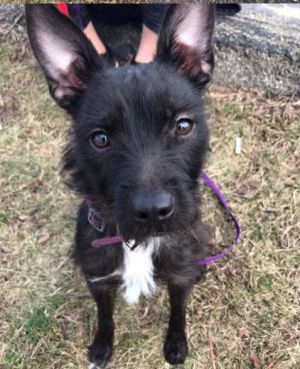 If you have a question or would like to meet Olivia please call Sandy at 724-909-0459, or email sandraschiller3008@gmail.com
Sure, I'm small, but what an athlete I am! At about 18-months old, my jumping skills are peak. In the blink of an eye, I can leap silently from floor to table or onto your lap. Tall fences are no challenge for me. I can climb over and dig under them, so the best home for me is where I will get plenty of face time with people who are active. I love walking, running, and learning new things. I'm very treat oriented which makes me very trainable. I used to be scared and skittish, but that is no longer the case. I adore people including kids. I was in a home with another big dog and 2 small children. It was my grabbing the cat's tail that landed me back at the shelter.

At my age, I cannot be the last thing on the list because I have a lot of energy, enthusiasm and a need for affection and attention that requires time and interest. I would be great at agility training.

With my wire-haired tresses and pricked ears, I am beyond adorable. My looks combined with my antics remind some of the flying monkeys in the Wizard of Oz, but you don't have to be a wizard to make me part of your family. You just need to understand that terrier mixes like me need more than just food, water and shelter.

I have been trained to walk with a Halti and am very good at staying by your side when it is used. On a regular collar, I can pull a bit, but at a scant 20 pounds or so, it isn't going to take your arm off.
To all those active dog-loving, trail-walking, morning-jogging people out there...please give me a chance to show you I'm a gold-medal choice.

Descriptions are from information that owners write on "surrender" forms, and details provided by staff members and volunteers during interaction with the animals. These are general guidelines to help steer potential adopters to the most appropriate companion animal for their lives and lifestyle.